Marine & Industrial Fabrication & Design
About Us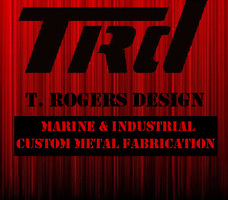 T. Rogers Design was established in 2000 by, owner operator, Tagg Rogers. With over 25 years of experience based in metal fabrication for the Marine, Boat Building/Repair, Industrial, Commercial and Oil and Gas Industries, T. Rogers Design has become a leader in the design and construction of top quality marine and industrial metal fabrication services for government, industrial, commercial, and private clients.We fabricate a wide variety of products to accommodate the needs of every customer. A few of our more common services include: design and construction of wet and dry exhaust systems, thermal expansion joints, custom fuel tanks, chemical tanks, water tanks, hydraulic reservoirs, equipment skids, piping manifolds and structural components. If you can imagine it we can fabricate it.

We pride ourselves on delivering high quality products with timely deliveries. We use high quality materials and build to the highest standards including ABS/NVR, US Mil Spec and US Coast Guard. We strive to meet and exceed your expectations at every level.


You can also visit us at www.trdtanksandexhaust.com for more information on out Tanks and Exhaust Systems.

We hope to hear from you soon!

Regards,
Tagg Rogers
President
---